Sherry, who is our wizard-friend behind the scenes on some of our best exotic bead finds from places like Thailand and Mexico, agreed to tell us her story. We're so happy about that, because Sherry always finds the BEST treasures, and because we thought you might be interested in (and envious of) her great customized travel treks.
Here are the results of our interview with her!
1) What's your story? How did you get the idea for MexAdventures, and how did you get started?
In 2009 I retired from Honeywell early. I traveled to Mexico because I could speak a little Spanish and I had friends in San Miguel de Allende. I fell in love with Mexico and kept going back over the next four years. I was also a member of the Los Alamos Mountaineer's Club and had gone on a number of adventure trips with them. It occurred to me that I could organize a trip and lead it. I wanted people to see Mexico the way I saw it, up close and personal. So I organized a two-week trip through the state of Chiapas for eight Mountaineers. We had a fantastic time! Since it had been so much fun, I decided to set up a company and give more tours.
Most commercial tours make money by steering you to specific stores where they get a kickback from what you buy. That's why so many tours are cheap. My tours are designed to get people outdoors, into caves and canoes, climbing around in archeological sites, strolling through markets, and eating food made by street vendors. I know a lot of very knowledgeable guides, and I hire them for trips to local villages or to talk about Mayan history and culture while exploring a pyramid. Included in both the one week and two week tours is a circular drive around Chiapas to see places tour buses can't get to. We stay in local hotels where the desk clerks usually don't speak English, and in jungle lodges where you wake up to the Howler monkey's calls.
2) What's the connection between you & The Bead? Tell us about some fun adventures in your kindness to find beads for us.
I met Sheila through the Live Poet's Society in Santa Fe. She impressed me with her zest for life, her writing, and her wide-ranging interests. One day she mentioned her daughter's new website and company, The Bead. So I mentioned the jillions of beads and bits of unique jewelry that I see all the time while traveling.
She asked me to pick up whatever caught my eye on the next trip. I was delighted to do it because I love to shop. In Mexico and elsewhere, I always visit the markets. On every trip I wish had a home in that place just so I could furnish it with all the wonderful locally made textiles, paintings, rugs, embroidered tablecloths, and furniture. But alas, I only buy personal decoration. Local jewelry is less enticing to thieves and there's always room in my luggage for a pair of earrings or a necklace.
Shopping for The Bead has been a dream come true! I got to wander with a purpose and subsequently found many more interesting pieces than I might not have seen otherwise. Plus I had fun talking to the vendors and meeting some of the artisans.
3) What are some of your best adventures/favorite places?
In the last five years I've traveled around the US, Thailand, Mexico, Guatemala, Belize, and I've
spent an autumn in Spain, Turkey, and Italy. Every place is wonderful and full of interesting museums, great food, and local crafts. I enjoy just hiking for the mountain views, and wandering around in cities and the open countryside. It's hard to pin down a favorite; every place has it's own charm. Still, it's
hard to beat a country as diverse as Mexico with its lovely climate and friendly people.
4) How can people find you & sign up?
The website is www.mexadventures.com. Both tours are outlined and there are lots of beautiful pictures! Just click on the "Contact Us" button and fill out the form. I don't pre-schedule tours, I run them when there is a group that is interested. I think people have more fun when they go with people they already know and like.
5) What trips are coming up next?
I just ran a trip to Belize so I have added Belize and Guatemala to the trip possibilities. I'm also expanding into the Yucatan. There are some amazing pyramids and deep cenotes there. Swimming in a sinkhole pool is a fabulous experience.
6) What makes MexAdventures unique among travel companies?
We don't play games. You will never be taken to a shop and pressured to buy stuff so the guide gets a kickback. During the city explorations, you're welcome to wander the markets and buy things if you wish. We don't supply food on the tour so you can eat what you like, whenever you want. Each day is organized differently and there is a lot of physical activity. On the website, we ask that you be able to
do certain things like walk two miles easily or climb stairs. If you can't, you ought to consider a different kind of tour.
The tours are also very personalized. We'll go see and do what people want. Not everyone is 'into' Mayan culture. A pyramid or two might be plenty, so we could add more jungle adventures like canoeing on the Lacondón river or taking a naturalist with us to explain the flora and fauna.
7) Why do you love travel?
I think it must be genetic. I have always had wanderlust and loved being in new environments.
It stimulates my mind in ways that nothing else does, and all that walking is great exercise. Plus I really enjoy people and most people in the world are interested in meeting tourists. We learn from each other.
8) Where do you expect your next 'bead-hunting' adventure to be?
I'm hoping to go back to Turkey to hike the Lycian Way with a group of Mountaineers. I haven't
even begun to explore Europe and am especially interested in Eastern Europe where many people still live like their ancestors. And of course there are the entire continents of South America and Africa. Who knows what beads they might have there!
That's it for Sherry's story – or at least a sneak peek into her amazing, exciting life! Check out the big collection of cool carved coconut beads and jade pendants she just brought us, recently listed in the shop (here's just one)..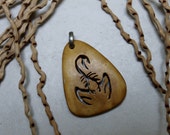 Until next time,
Shannon